Snack beyond the bar.
15% OFF First Purchase

Our snacks aren't a trend,
they're a lifestyle.
Pick up a variety pack today and try for yourself!
Great taste should go hand-in-hand with nutrition, we don't compromise and neither should you! Use code MACRO15 for 15% off your first order!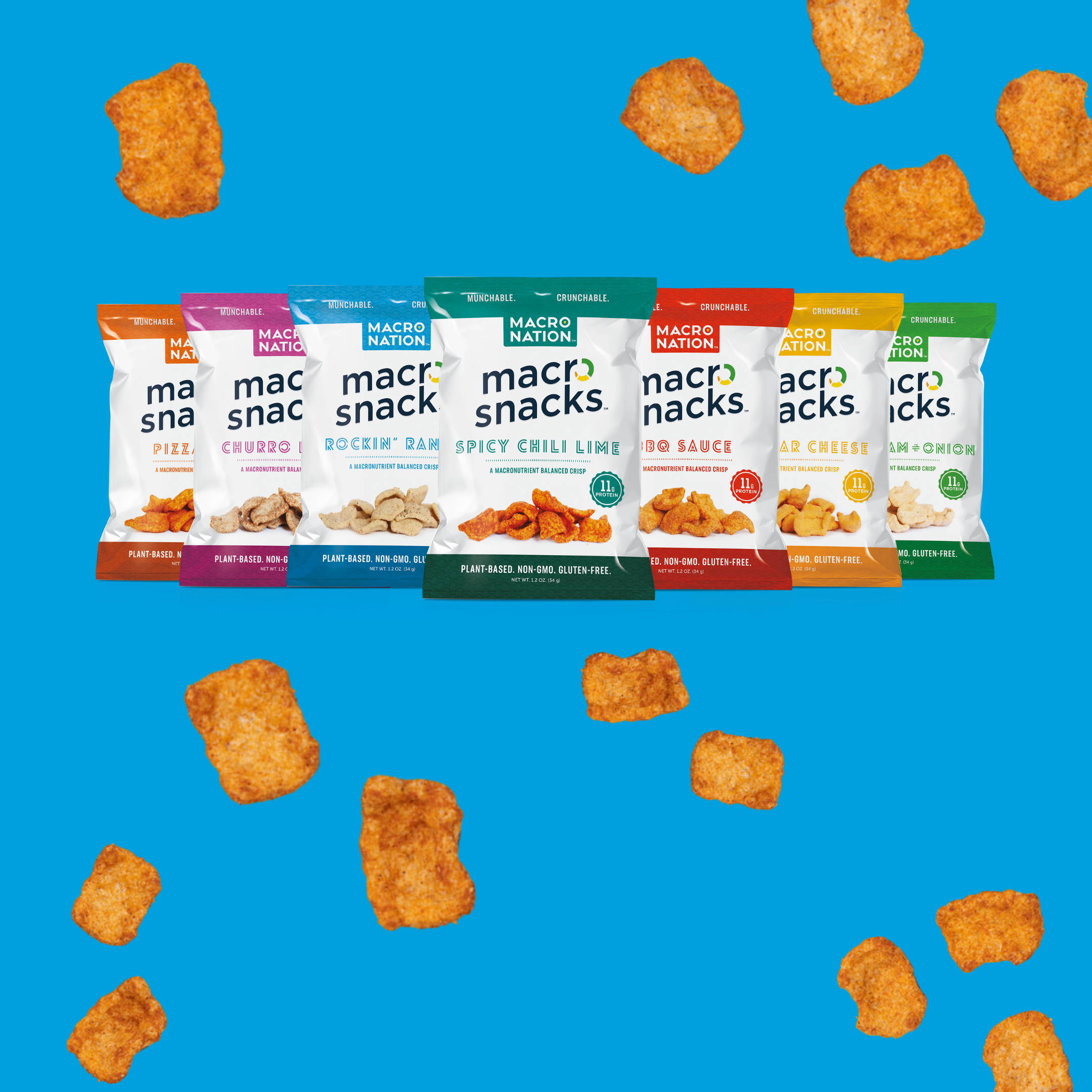 ---
$27.20 after discount!
Use code: MACRO15

---
11-12g of plant-based protein for muscle building and recovery!
Complex carbohydrates for sustained energy!
Healthy fat for immune support and essential vitamin absorption!
All flavors are Non-GMO, Gluten Free, and Vegan!
(Pizza Pie contains cheese from dairy sources)
Muscle up bro! Protein is only for bodybuilders, right? Think again. Protein doesn't just repair and rebuild muscles, it is essential for repairing bone and skin tissue as well. Weak immune system? Protein is also used in making essential hormones and enzymes to support your immune system. High protein diets work for a period of time because the protein becomes the bodies only energy source if carbs and fats are depleted...not sustainable! All 3 macros are necessary for your body to continue to maintain normal functioning.
We know, carbs have gotten a bad rap lately. As we always talk about, fad diets have engrained (no pun intended, ok maybe intended) this misconception into most people's mindset. Carbs are what keep your brain and muscles working at their optimal levels. Complex carbohydrates are the only carbs you should eat. They provide the major source of energy to fuel your everyday activities.
Fat makes you fat. Wrong! Eating more calories than you burn each day makes you fat. Healthy fats aid with vitamin absorption and supplies the body with essential fatty acids it can't make on its own. Oh yeah, and it gives food flavor and texture, so you like them better!

---
Don't take our word for it, check out what our customers say!
---
I received mine today, they are amazing! I honestly wasn't expecting a very good flavor out of something healthy, I expected them to be kind of spongy and corny. I was wrong, I love them and will definitely be ordering more, I don't see these lasting long.
I've been a fan of Macro Snacks since there were only 3 flavors and I'm so thankful such a thoughtful snack was created! I'm so excited there are 4 new flavors! Every flavor is absolutely addicting and craveable, yet the balanced nutrient levels leave you satisfied with the single bag, preventing that urge to mindlessly snack excessively. Can I mention that I absolutely love the texture and crunch also?
I can't get enough of these snacks! I lost 90lbs on WW and kept it off for three years. Macro Snacks are a important part of my low-point snack arsenal and they keep me on track. Don't waste any more time reading reviews and order some now.
---
Macro Snacks was created to shift the norm in healthy snacking. We were fed up with dried out protein bars and other snacks that didn't have everything a macro lifestyle can provide. Our goal was and is to create a tasty snack for all that not only has great health benefits, but tastes outstanding. And you know what? We crushed it. Or maybe crunched it? You get the idea.